I would love to host a "Chicka Chicka Boom Boom" letter exchange at the beginning of the school year. This post has all of the details so if you're interested just leave a short comment with your name and email address. Based on the number of responses I get, I'll either move ahead with the project or wait until a later date.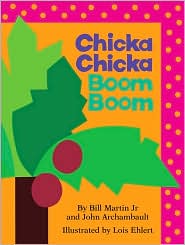 Here's what you'd need to do to participate. . .
1. Your class will be assigned a letter of the alphabet and placed in a group with 25 other teachers/classes. Each teacher will have their students brainstorm ways to decorate their letter of the alphabet then decorate 26 of the same letter. There will be a template posted on my blog with the entire set of letters in a basic font like the one below. You'll need to print out "your letter" on white card-stock paper and then start decorating. You can decorate the letters with all kinds of materials...be as creative as you'd like!
2. You'll mail 25 of them to your group members for their complete set, and keep one for your own set. Each teacher will be responsible for postage charges.
3. After the project is complete, you'll have a complete set of custom alphabet letters.
4. You can read the familiar back to school book "Chicka Chicka Boom Boom" to introduce this activity.
5. Another part of the activity, which will be optional is to send a short letter from your class with information about where you live, your grade level, and how your school year is going. I have also used googleEarth to map the locations of where mail came from in the past, and my students really enjoyed that.
The dates of the project will probably be September 1-30 which will give you a full month to complete the entire process of brainstorming, decorating, and mailing. Let me know if you're interested!