Head over to Lakeshore to find 75 free summer activities for kids.
There are three categories: pre-school, early learners, and elementary. You can click on the logo to check it out. The teacher's corner also features ideas for classroom activities, printables, and grant opportunities for teachers.
I also love the
Classroom Designer Feature
which will allow you to create a model classroom without lifting a finger (other than clicking and dragging)! This year I measured the dimensions of my room, and I'm planning on making sure that I have a layout in place before I begin the heavy duty work! I also love Debbie Dillers's Spaces and Places: Designing Classrooms for Literacy.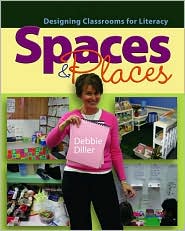 I'll definitely be reading it again this summer as I decide on a great new layout. If you don't own it, I highly recommend it! I have to make quite a few changes since I will be using my Promethean board for my whole group instruction and I want it to be the focal point of the classroom.
On a completely different note, I have to share a few updated pics of the boys. Yesterday afternoon we headed out to take pictures as part of a Father's Day gift. I thought I was being smart by taking care of it early. However, I was SO wrong. On the way there Christian and I talked about how we were making something special and it was a surprise for his daddy. This was definitely not a good approach for me to take, but I guess I'm out of teacher mode a bit. When Mr. Perry arrived home from work yesterday evening, he asked Christian (as he does every day) "How was your day? What did you do?" Christian said (with a huge smile), "Yes, I took a picture for you daddy! It's a surprise!" I SO did not do a good job with that one, but that's o.k. because the pictures turned out pretty cute. I love my little fellas!